A wild Irish Hooley……… 'to be sure to be sure'!
A fun filled night with great traditional songs to sing & dance the night away too. When Ken and Karen are performing their Irish sets, as 'Seven Drunken Nights,' they certainly deliver a spirited toe tapping, hand clapping performance, leaving you feeling like you've just had the Luck of the Irish.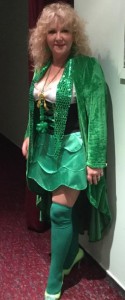 A very busy day with only three gigs on Thursday 17th March 2016 (St Patricks Day) starting at 08.30am at O'Hagens at The Viaduct Then on to an afternoon stint at Doolan Brothers in Ellerslie, finishing off for the evening at The British Isles Pub in Rothesay Bay on the North Shore. One of our best nights!!!